Grab more casino bounties with the CasinoEuro's daily deals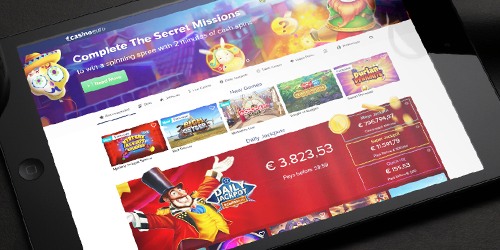 A grate welcome offer is something any casino fun is looking for before registering on a gambling website. Beyond a shadow of a doubt, it is a very sensible approach and we believe anyone should do just this way. You shouldn't forget about other bonus offers, though. In all likelihood, your welcome bonus will quickly come to an end and then it would be really great to have more free options to use for your playing.
One of such free options is now available on the CasinoEuro's official website. Here you can participate in a unique bonus programme called Daily Deals.
The Daily Deals bonus offer is quite curious since it has multiple forms depending on the day of the week you would like to take part in the campaign. An exclusive promotion will be available for Monday and Tuesday as well as for the rest of the week. What bounties can you count on if you participate in the Daily Deals programme?
Let's look on the offer available for Wednesday. The reward provided by CasinoEuro on this day of the week is particularly good for all the video slot devotees as it includes a set of thirty free spins. These spins are earmarked for playing one of the most attractive slot machines that can be found at CasinoEuro so far. This game is Cash Vandal. Isn't it nice to have an opportunity of playing your favourite casino game without a need of paying your own money for stakes? The answer is obvious.
Now, the question is what should you do to get such a lucrative offer just at the middle of the week. Just imagine – the only thing you are supposed to do is to make a small deposit of €15. Thus, you will get thirty chances of winning the greatest prizes available on the Cash Vandal slot for making a deposit of only €15. It is hard to believe something like that is possible!
Anyway, it was just an example of the promotion. There are also six other days each of which has its own unique offer. Mondays bring a reload bonus to players. The following day, they can get free spins for playing the Mission video slot. Thursdays are the days when fascinating tournaments are held at CasinoEuro. Fridays are the days when you can receive another portion of free spins. Saturdays provide the CasinoEuro's clients with an offer called Goodie Bag. Finally, you will be able to get a 25% cashback on Sundays.
It's up to you which promotion to choose. Still, don't forget, you can take part in all of them!
Grab more casino bounties with the CasinoEuro's daily deals