Get more chances for hitting a slot's jackpot with Lucky Mr Green Free Spins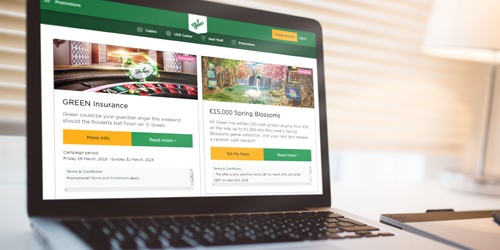 Anyone who is crazy about playing video slot machines should check one of the latest offers provided by Mr Green. The bonus programme called Lucky Mr Green Free Spins is a brand-new form of a promotion that can't be find anywhere else on the Internet so far! Let's learn what is so special about these excusive spins!
Count time instead of spins
A traditional form of a reward earmarked for playing video slot machines is usually about the number of free spins. When you decide to take part in such a promotion, you will get a particular set of free spin. Mr Green proved to have an innovative and creative approach to online gambling. This Internet casino has introduced Lucky Free Spins. There is no fixed number of spins you can get in this promotion. Instead of a set of spins, you get time during which you can play a video slot machine free of charge!
How can you participate in this promotion?
The participation in this promotion is a sheer pleasure. You just need to pick one of the four games available for the promotion for this week and play them! You can choose from such video slot machines as Imperial Palace, Wild Egypt, Wild Spartans and a newly released Mystery Reels Megaways slot. Providing you have never played any of these extremely fascinating games, you can choose a demonstrative version of them. Mr Green allows you to play all of these games without making real stakes in case you need to check them.
Make a stake of at least €2 for each spin and collect 30 seconds of free playing time given per each 150 spins played. The bonus campaign allows you to receive up to three minutes per day which makes a total of twenty one minutes per week!
What are the advantages of this bonus offer?
The Lucky Mr Green promotion is a particularly lucrative offer. First of all, it allows you to make as much free spins as possible during the playing time you gain as a bonus. Second of all, there is no need to make a deposit especially for the sake of taking part in the promotion. You should simply play video slot machines making stakes of a standard size that is only €2. Furthermore, you can pick one of incredible video slots that can be played in this promotion! The list of the video slot machines you can choose from also includes the game that was released on 28th March 2019, so you will be one of the first players enjoying playing it! And, don't forget about the demonstrative mode of all of these games that you can use in case you are not sure about a game you would like to play.
Get more chances for hitting a slot's jackpot with Lucky Mr Green Free Spins