Redbet bonus – get your €100 and start playing right now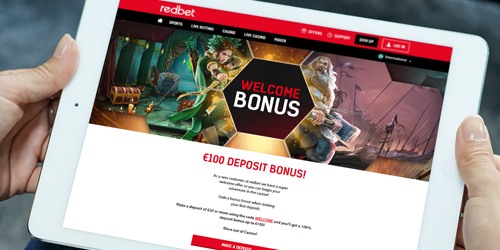 Are you in the middle of your search for the best welcome offer? Try the one the Redbet casino has prepared for its new clients. This top gambling facility is widely known not only for one of the greatest choices of money games but also for its especially profitable bonus offers. Thus, it has four different types of bonuses for its new customers! Check the bonus rewards the Redbet casino has prepared right now and start your gambling career with extra possibilities!
Who can claim the welcome bonus available at Redbet?
As we have just mentioned, at the moment, Redbet has four types of welcome bonuses. One of them can be called a universal one whereas three others are dedicated to the players of poker.
In order to participate in any of these promotions, you will need to become an official client of this gambling website. Do not worry, the procedure is extremely simple and fast. All you will have to do is just filling a short registration form available on the main page of the casino.
Another thing you will need to do after your registration is the first transfer of the money to your new player's account. A wide range of various payment options provided by Redbet will make this procedure plane and rapid as well. Pay attention to the exact requirements of the bonus offer you wish to use before making your first deposit. As you will see in the following sections of the article, each of the Redbet's bonuses has its own conditions regarding the first deposit.
Play an entire collection of games with a welcome bonus
Providing you are a fan of video slot machines or any card and table games that are not poker, we will definitely recommend you to choose a general bonus at Redbet. The bonus is a cash reward that is paid to the players who make their first deposit of at least 20 EUR and insert the WELCOME code. This way extra 100% will be added to your funds. Certainly, making a deposit of 20 EUR will bring you extra 20 EUR. Yet, you can earn even more by transferring more cash to your account. The maximum size of the bonus is 100 EUR.
The "Little fish" poker bonus
Providing you prefer playing poker online most of all, although you do not consider yourself to be a professional player, you might be interested in receiving a special poker offer that won't require transferring too much cash of you. This bonus available at Redbet is exactly what you need.
If you make your first bonus of 10 EUR, you will automatically enter the promotion that will give you 50c every time you spend a euro on your bets or the casino's tournament fees. In addition to it, taking part in this promotion will entitle you to paying just a half of the fees because of the fact you are a new customer.
The "Big Fish" poker bonus
The new Redbet's clients who feel confident of their poker skills and wish to make a greater deposit will get extra 200% of their initial funds. Thus, the deposit you should make with a view to benefiting from this option should be at least 11 EUR whereas the maximum amount of the deposit should be equal to 200 EUR. In this case, a release rate will be equal to 25%.
The Cardboard Box poker bonus at Red Bet
You might be willing to make even a greater deposit right at the beginning. In this case, you will be rewarded with a special treatment as your first deposit will be increased up to 2000 EUR. As far as you can guess the minimum deposit you must make in order to become entitled to be rewarded with such an astronomical amount of cash is 201 EUR.
A release rate available for this bonus is 20%.
Choose the best option for your needs and make the most of playing at Redbet!
Redbet bonus – get your €100 and start playing right now