Spring blossoms at Mr Green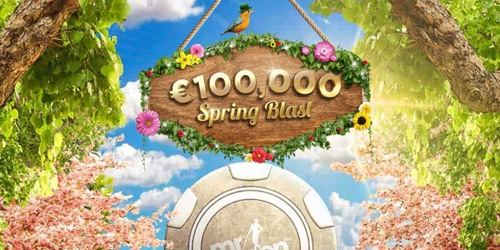 Every spring is a time of great changes and we bet you feel upcoming great events. This spring will be especially warm at the Mr Green casino due to its exclusive bonus offers. One of them that has been particularly created with a view to making your spring even more colourful has got a prize pool of €15 000 prepared for all the lucky Mr Green's clients!
What are the exact rewards of the Spring Blossoms promotion?
The total prize pool of the bonus offer is €15 000, yet, it will be divided among the 150 luckiest players! The five first rewards will bring the players €1 300 , €750 , €500, €400 and €300 respectively. So, as far as you can see the greatest prize is a nice sum of €1 300.
Then, there are five prizes of €200 each and ten prizes of €150 each. There are also thirty prizes of €100 each, fifty prizes of €75 each and fifty prizes of €50. Thus, even the smallest reward is a nice sum of money that can be used for playing your favourite games at Mr Green.
What should you do in order to win this money?
The Spring Blossoms promotion is another innovative product created by Mr Green. There are two major types of tournaments available for the players of video slot machines. The first one is about playing slots and collecting special tickets that can be used in a raffle afterwards. The results of the raffle decide who is the winner of the tournament. Another common form of a slot competition is collecting special points by playing a selected group of video slot machines. The points you get are usually calculated accordingly to the amount of money you earn while playing these slots and the players with the greatest amounts of points are entitled to receiving the prizes.
The Spring Blossoms offer is absolutely different, though. This promotion doesn't make you worry about the amount of points or tickets you should collect in order to win at least the smallest prize. This bonus programme works in a random way. You just need to relax and play one of the three video slots offered for the current week and, just at any moment, you can receive a one of the prizes we have discussed in the previous chapter of the article.
The minimum value of the spins that can trigger any of the Mr Green's rewards to fall right into your pockets is only €0.75! This means you can participate in the promotion even if your deposit is not particularly impressive at the moment and you will still have chances of winning!
Spring blossoms at Mr Green