Earn free cash and grab extra spins at Yoyo Casino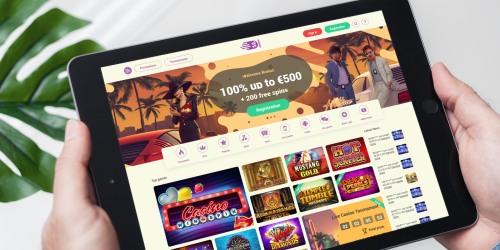 If you are searching for a top online casino offering generous welcome bonus that will be useful for both playing video slot machines and live card and table games, Yoyo Casino is the best choice for you. This gambling venue has an extended welcome promotion that will certainly live up to the expectations of any player.
Get free cash at Yoyo Casino
Undoubtedly, it is pleasing to get financial rewards at an online casino. It is especially pleasing when you can use these rewards for playing any game you wish. That is exactly what you can count on at Yoyo Casino.
The money offered on this casino website is available for playing the entire collection of games. You can choose any video slot machine and relish any card and table game such as poker, baccarat, blackjack, dream catcher or roulette. Yoyo Casino doesn't have any limits for the list of games included into the welcome bonus campaign.
Furthermore, Yoyo Casino made it possible for any player to receive its bounties setting the minimum deposit to mere 20 EUR.
Certainly, the major question is how much cash you can get by participating in the Yoyo Casino's welcome promotion. The smallest bonus amount is 20 EUR that is given for the minimum deposit of 20 EUR, as it has already been said. Therefore, the cash you will transfer to your player's account will be doubled. The greatest sum of cash you can count on is 500 EUR that is a large amount of cash compared to the welcome bonuses offered on other gambling websites.
Boost your chances of winning with free spins
Although a cash bonus of 500 EUR is a fantastic prize for any newly registered player, the team of Yoyo Casino has decided it wouldn't be enough. Thus, the reward also includes a remarkable pack of 200 free spins! Beyond a shadow of a doubt, the amount of 200 free spins is really huge and rather rare at other online casinos. If you check the offer of the majority of gambling websites, you will see their welcome rewards usually offer ten times less. The casino will add the first 20 spins to your balance immediately after your claiming the bonus and the rest of the amount will be given during the following nine days.
What do you need to do to be entitled to using such a generous present? Nothing extra, really. Create your account on the official website of Yoyo Casino and make your first deposit of at least 20 EUR. Apart from getting extra 100% of the amount, you will receive the free spins as well. Note, the number of free spins is constant which means you won't receive less than 200 spins even if you make the smallest deposit available for this promotion.
Again, the list of games that can be played with your free spins isn't limited whatsoever. Providing you have already visited some websites of online casinos, in all likelihood, you have found the offers of free spins earmarked for playing only a particular set of games. Fortunately, Yoyo Casino allows its clients to choose the games for playing with free spins on their own.
The Yoyo Casino's welcome bonus – summary
To put in a nutshell, the welcome bonus of Yoyo Casino includes two rewards both of which are given to the new clients of the casino for the first deposit. The first deposit you should make after completing the registration form on the casino's website is 20 EUR.
The first one is an extra amount of cash that is equal to the sum of your first deposit. Thus, the smallest amount of cash you can get is 20 EUR. You can receive even 500 EUR for a greater deposit, though.
The second reward is 200 free spins that can be used for playing ay games you wish. Moreover, you won't need to meet any extra requirements for receiving the spins.
The Yoyo Casino's welcome offer is perfect for players with different gambling tastes, whereas its requirements are easy to meet. Make your first deposit at Yoyo Casino today and win real cash!
Earn free cash and grab extra spins at Yoyo Casino