Blood Suckers Slot
Do you enjoy horror stories about vampires? Then, you should certainly try playing a thrilling Blood Suckers slot! The demo version allowing you to play this exciting slot machine for free is available in the Internet casinos on our list of the best gambling facilities.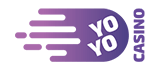 100% up to €500 and 200 Free Spins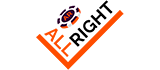 Up to €800 and 100 Free Spins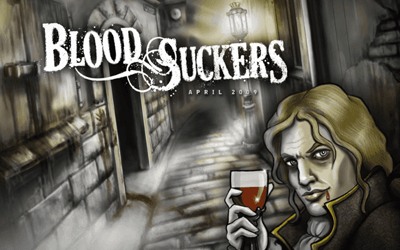 It is rather difficult to say why the theme of vampires is so popular nowadays. Today, you can find it not only in books or films, but also on multiple computer games including video money games such as slot machines. You will hardly meet a top online casino that has one of such slots in it collection while the leading game providers do not limit their offer only to one game on vampires. As a result, vampires have become extremely common in our world, thus, you can encounter them in absolutely different contexts. Sometimes, they become the protagonists of beautiful romantic stories, yet, on most occasions, they behave as mere blood suckers who treat other people exclusively as meal.
If you ae a fan of horror stories or simply like to get freaked out from time to time, the Blood Suckers video slot created by a talented team of the NetEnt game studio will be the right choice.
The slot's theme and appearance
As far as you have possibly understood from our brief introduction, the Blood Suckers video slot is not a delightful and elegant story about a handsome and mysterious gentleman who turns out to be a real vampire. Blood Suckers is a real horror story and it is thrilling and creepy, so, if you are not ready to participate in such an adventure, you'd better not enter the dark tomb as it is not easy to escape from it. The designers of NetEnt have succeed in creating a genuinely scary place full of blood, spider web and dust. Although such a spine-chilling adventure will suit only those people who are keen on getting thrilled or real fans of video slots, entering the tomb of Blood Suckers can eventually prove to be extremely profitable.
The creators of the Blood Suckers video slot worked on each detail of this game in order to make it especially atmospheric. That is why you won't find any card symbols on this slot. The game has exclusively the symbols related to the theme that are certainly the pictures of vampires as well as the most essential objects related to them such as garlic, the Bible with a cross, holly water and a crossbow. You will learn more facts on the game's symbols in the next chapter.
The slot's interface and gameplay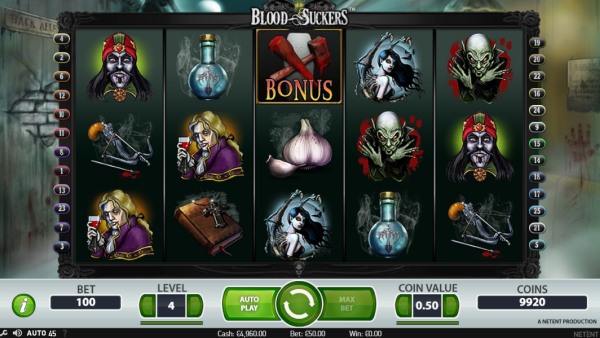 As usually, the team of NetEnt pays special attention to the quality of the game's interface with a view to making it simple and intuitive for any person willing to participate in a game. First of all, we recommend you to check the Paytable section that can be found in the left button corner of the game's screen. This table will provide you with the knowledge on all the symbols used on the slot as well as the size of possible winnings. Certainly, the amount you can win depends not only on the symbols on your screen but also on the amount of cash you are going to wager.
Choose the amount of your bet using the Bet Level option or setting to the highest possible amount via the Max Bet button. The Blood Suckers video slot is a game with a possibility of changing the number of active lines. This can be done with the Bet Lines button.
The game will start once you choose the parameters we have mentioned above and press the button with two arrows. This will launch the spins manually. In addition to it, you can use the option of Autoplay which means the machine will spin automatically. If you wish to use this option, press the Auto button located at the bottom of the game's menu bar.
When you start playing Blood Suckers, you will quickly find a number of items related to vampires. The objects we have already mentioned in the previous chapter such as the pictures of a crossbow, garlic, holly water and the Bible are the symbols of the lowest level giving the smallest winnings. Despite this fact, they can help you to earn up to 100 coins.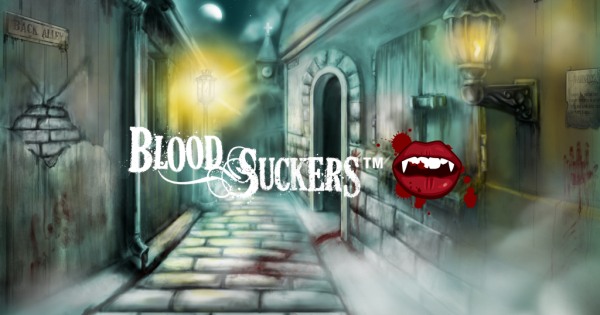 The next group of slot's symbols includes the pictures of four rather unpleasant characters who are a vampire with a vine glass full of blood, a vampire wearing a hat, a bold vampire as well as a black angel looking like a woman. All of these dangerous persons have a positive feature – all of them can add up to 500 coins to your balance.
The game also has a wild symbol that is presented by a vampire biting a woman that will change the symbols neighboring a potential winning combination into the symbols this combination is lacking. In such a way, it helps to fill the positions with the symbols you need. Note that five wild symbols can bring you a special prize of 7500 coins.
Blood Suckers also offers a scatter symbol that is using a picture of a vampire looking like a bride. This symbol can multiply your winning and start a round of free spins. These features of the symbol will be described in the chapter on the slot's bonuses.
Finally, one of the most valuable game symbols is a picture of an axe and a stake. This symbol will start another type of a bonus game.
The features of Blood Suckers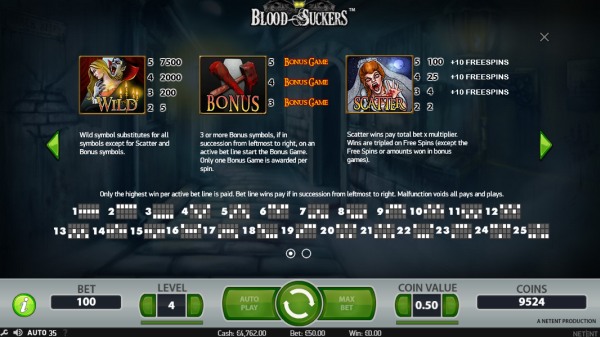 The Blood Suckers video lot has 25 playlines. Yet, you are allowed to change the number of active lines just as you prefer. You can easily set the number of playlines to the greatest possible number or play with the smallest amount of lines that is one playline.
A particular feature of the Blood Suckers slot is its high payout ratio that is approximately 98%. Pay your attention to the fact this is one of the highest ratios among other slots developed by the specialists of NetEnt.
The experts who had examined the features of Blood Suckers also noticed this slot offers bonus games and free spins that are discussed in the next section of the review on quite frequent occasions, especially in comparison to other games. Even if you are not lucky enough to win the greatest possible prizes during a bonus game, you can definitely count on the sums of cash that will allow you to keep a stable financial balance while you are waiting for a greater reward.
Bonuses
It has already been mentioned that the slot's scatter symbol can trigger the occurrence of the Free spin round. In order to be allowed to play such a round, you will need to collect at least three symbols on the slot. The number of spins you will be rewarded with is ten, although you might earn more free spins during a bonus game. The free spins that are available on the Blood Suckers game will triple your winnings.
There is a special symbol we haven't mentioned before that is a picture of a coffin. Collecting at least three of such symbols in a row starting from left to right will entitle you to paying another type of a bonus game. Once the game is launched, you will enter a tomb full of coffins. These coffins need to be opened. This will show you where the vampires are hiding allowing you to destroy them. The game will end when bats fly away from one of the coffins. Note that you will be able to play only one game of such a type during one spin. This option as a potential winning of 4000 coins.
All in all, the maximum winning available for free spins is equal to 90 000 coins, whereas the maximum winning offered by the slot on the bonus game is 20 320 coins.
Limits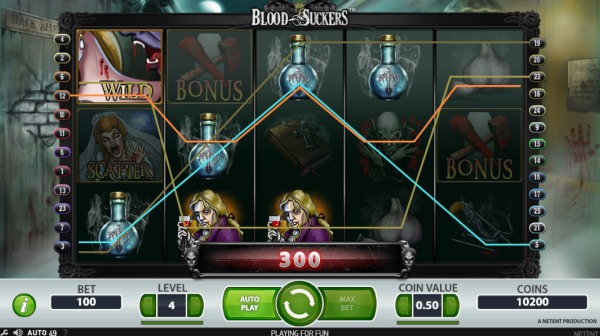 We have already discussed the maximum winnings available on the slot's bonus games and the round of free spins. The main game of Blood Suckers will give you the maximum amount of 30 000 coins.
The maximum bet you can make on Blood Suckers is equal to 50 coins. The value of one coin can be of a range from 0.01 to 0.5.
Compatibility
The Blood Suckers video slot is one of the most popular games created by the Net Entertainment studio. That is why the game designers have created a mobile version of this game that is available for use on virtually any portable device such as a smartphone or a tablet computer. In addition to it, the game runs smoothly on the majority of the common operating systems running on desktop computers such as Windows or Mac.
Developer
As we have already mentioned, the Blood Suckers video slot is a product of Net Entertainment or, as it is also frequently called, NetEnt. NetEnt is one of the leading developers of IT products and services used in the gambling business. Apart from hundreds of state-of-the-art games of absolutely different types including slots like Gonzo's Quest, Starburst, Mega Fortune, Spinata Grande and live card and table games, Net Entertainment is also known for its advanced platform widely used for launching the casino games on mobile devices.
Conclusions
The Blood Suckers slot developed by the Net Entertainment game studio is a product featured with strong odds of winning due to its high payout ratio and multiple rewarding bonuses. Apart from these paramount advantages, the game also offers a possibility of starting an absolutely unique adventure that will undeniably give you unforgettable emotions. The NetEnt's developers have made their best with a view to creating a particularly thrilling game world that is decorated with the sophisticated graphics of the highest quality unavailable even in the most popular films on vampires. As a result, the game is so realistic you might even be bewildered at the beginning of the playing process.
Try playing the Blood Suckers video slot and check whether you manage to overpower an immortal beast and receive a highly valuable treasure or you will become one more of its victims.
Blood Suckers Slot
Game provider:
NetEnt
Release date:
2013
RTP (Return To Player):
98%
Reels:
5
Lines:
25
Casino of the week
Leo Vegas
The welcome offer available at Leo Vegas gives you a total of €700. This bonus programme is available in three variations given for three consecutive deposits. No matter which one you are going to choose as you will certainly be able to receive unbelievable prizes!
Visit casino